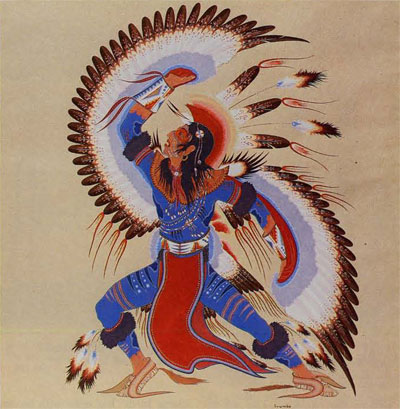 Eagle Dancer by Woodrow Crumbo
Any Indian who shall engage in the sun dance, scalp dance, or war dance, or any other similar feast, so called, shall be deemed guilty of an offense, and upon conviction thereof shall be punished for the first offense by the withholding of its rations for not exceeding ten days or for imprisonment not exceeding ten days . . .
--- 1882 Courts of Indian Offenses
I am a Hawk -
feathers
fanning
from my fingers.
An Eagle downed
in the Mysteries
of my Mother.
I am an owl -
swift and sharp.
I am a water bird -
carrying
the heaviest
of heartaches.
A Scissortail riding
the smoke
as it floats away.
A Flicker
in the dark.
Notes: A variety of feathers are held sacred by different Native American tribes ( I've used red-tailed hawk, American bald eagle, cormorant, scissortail, and flicker) and are used in rituals, dances, and ceremonies. It is believed that the wearer takes on attributes of the bird.
If the law forbidding dance strikes you as archaic, consider that an Indian could be prosecuted for possessing eagle feathers as late as 1978 (the year the American Indian Religious Freedom Act became law).
For Ella's prompt at Real Toads